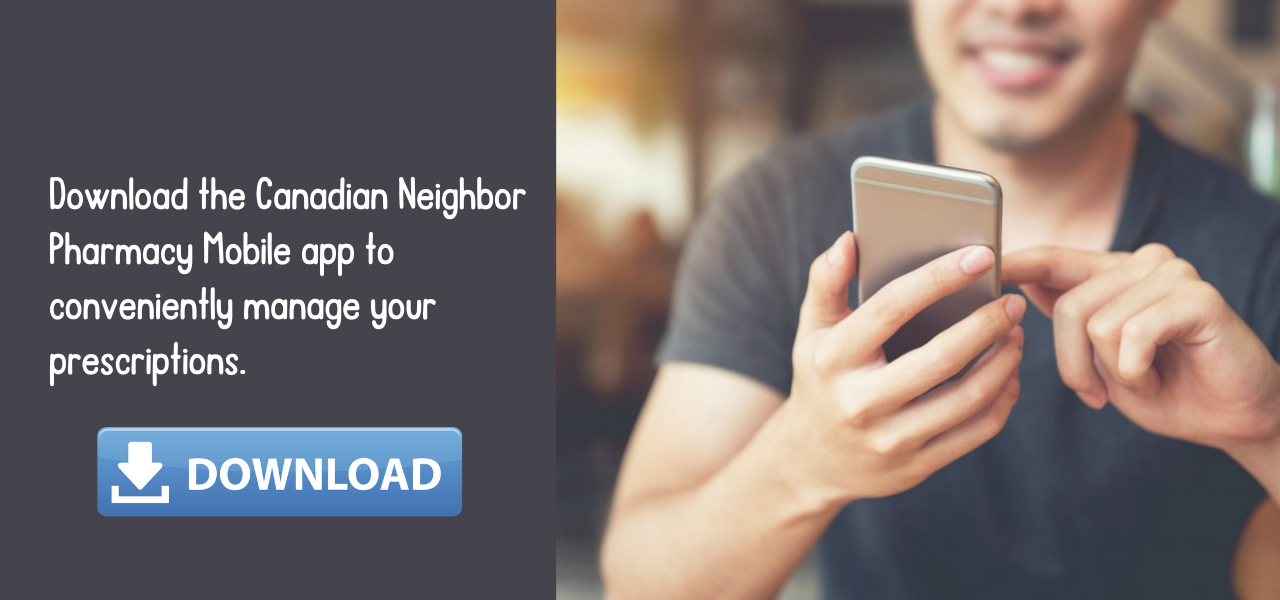 Canadian Neighbor Pharmacy app has been successfully operating for several years. It can be used to explore the assortment, refill your prescriptions, track your orders, and more! In fact, you can make an online purchase both through the mobile app and on the pharmacy's website. Download the mobile app right now to get access to a rich assortment of cheap and high-quality medications!
Let's see what benefits the mobile app has and why so many consumers use it every day.
 Why Use Our Online Pharmacy App?
It is an opportunity to study current offers and promotions in a convenient format and be the first to know about all the events. It is very beneficial to have such information because it allows you to plan your expenses.
The meds app often offers special prices for medicines and health-related products. In other words, when you buy online, you save money. This can be easily checked by placing an order via the Internet and comparing the price in the nearest local pharmacy. Once you try it and see the benefits, you will become a regular online shopper.
A very important option is the ability to have full information about the order. Using the mobile app, you can study the indications and contraindications for use, side effects, composition, interactions, etc., as well as clarify the availability of the drug in the pharmacy and the ability to order it.
Our mobile app is 100% secure. We've taken all the necessary measures to ensure all your transactions are safe and secure. Set your security code and no one can get access to your personal information.
You no longer need to leave your home to buy medicines. You can place an order from any convenient place – from your home, office, or while on the beach. You will not have to visit the pharmacy, which is very important during the period of seasonal diseases. And it will save time that you would have spent in line. Now you can use the delivery service. You can learn more about it on the pharmacy's website and in the app. Home delivery is very convenient if you need to comply with quarantine or, for health reasons, you need to refuse to visit public places. The delivery service is in great demand among mothers who find it inconvenient to go to the pharmacy with their children. The courier will deliver the order to the specified address in the shortest possible time. This makes your order as convenient and mobile as possible.
It is easy to track your order status. You can check exactly where your package is and when it`s arriving. Your tracking number will automatically appear on your order page. Keep check of all your orders in one place!
Contact us 24/7. You can get in touch with the pharmacy representative in any way you prefer: send an email, use an online chat, request call back or simply call.
Thanks to the online pharmacy app, you can accumulate bonuses and use them to pay for your meds. To get the maximum benefit, you need to be aware of current promotions, study their conditions and track the number of bonuses. Doing it online is much easier.
Use a reminder option. It helps you to get your drugs on time. Set the day, time, dose and be sure the app will notify you in time.
In a word, the convenience of online orders is now becoming apparent. Moreover, a significant part of special offers and promotions is available only when buying goods online using the mobile app.
It's never been easier to purchase medication online!